Which one of these 54 Important Growth Strategies is YOUR podcast missing?
The host of one of the largest podcasts
(Over 900, 90+ minute episodes!) shows you how to leverage each one of them:
If you're currently hosting a podcast, or if you're thinking about hosting a new podcast… and you want to grow your listener base, while having as much fun as possible… with as little stress and frustration as possible… then pay close attention to what I'm about to share with you: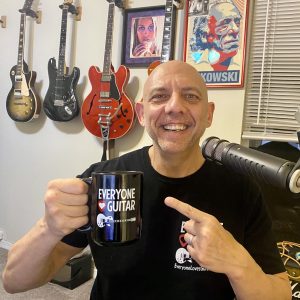 My name is Craig Garber, and on August 31, 2017 I dropped the first episode of the Everyone Loves Guitar podcast. At that time, I had literally zero contacts in the music industry… I'd never worked for a magazine, newspaper, TV or any other kind of media outlet… I knew no musicians or celebrities… and I wasn't even a particularly good guitar player at that time (I'd only been playing for 2 years at this point).
In fact, when I first started, I wasn't even sure I'd be able to get guests on the show.
Four years, 2.2 million show downloads… almost 2 million YouTube views… and over 900 episodes later, we're the largest musicians' interview show out there. I've had the privilege of interviewing some of modern history's greatest and most revered guitarists, bass players and drummers. (You can check out some of our more popular shows here.) And as far as getting guests on, the show has become so popular there is now a 2-3 month wait to come on.
Of the close to 2 1/2 Million podcasts out there, we are in the top 15-18% for number of listeners… and less than 100 podcasts have published as many episodes as we have. And of course, it goes without saying I am incredibly grateful to have created this experience and make so many great connections.
And if I can created this kind of activity in this very specific, and tight niche… think of what you can do, as most niches are much wider and deeper than mine.
The one thing I did have in my favor was a strong marketing background and a high level of enthusiasm. As a marketing consultant and copywriter, since March of 2000… I've worked in over 115 industries with more than 300 clients… I authored and published "How To Make Maximum Money With Minimum Customers," a book on direct-response marketing… for 10 years, I published an offline hard-copy subscription newsletter called Seductive Selling, which had readership in 30 countries world-wide… and I've easily written over 4,000 ads, emails, postcards, sales letters, webinars, tele-seminars, long-form Free Reports, and seminars… both online and offline.
Between this, and producing and creating over 900 episodes of Everyone Loves Guitar… I've learned a LOT during this time, and have done a few important things that have helped the growth of my podcast.
Over the last few months, I began getting a number of requests from people who wanted help with, or constructive criticism on, their existing podcast. Or, input on a new show they were thinking of starting. I enjoyed helping others and the feedback was that I delivered a lot of value.
Because of this need in the podcasting marketplace, I'm making myself available for a limited number of Zoom consulting calls each week, to help people who want to create, produce and grow a better, and more exciting podcast. And… who want to have as much fun and as little stress and resistance as possible, while doing this.
This list below contains just a few of the strategies
I'd be excited about helping you with
Now, you can have the same strategies to succeed that I used. I'll explain what you need to do, and how to do it, to accomplish whatever goals you're looking to achieve with your podcast. And keep in mind, my knowledge in this area isn't information I read about in a book or saw on some YouTube video… or from broadcasting "a few podcasts." These are strategies I've field-tested in the trenches, and results of testing I've actually experienced and worked through on my own – through trial and error, over more than 900 podcast episodes and over 22 years as a marketing consultant and copywriter.
The truth is, if you're not addressing most of these issues, you're leaving a lot of upside podcast growth potential on the table. The good news is… I am happy to help you work through the ones that make the most sense for you. For instance:
How to define your niche – and why this is probably THE most important aspect of your podcast
Is your show's topic actually the right topic for you?
A simple way of being able to create enough interesting content for your show – along with sources of endless free content for you to tap into!
Who is your ideal listener?
Why should people want to listen to your show?
The mindset to have about what you are really building with your show. Once you shift to this, the vibes you put out on your show will be totally different. More people will be more open to listening, and you'll feel much better about what you're doing and why you're doing it
How to create a differential between your show and shows that have other, similar topics?
Monetizing your show – is it possible, and if so… what types of monetization makes the most sense and will be easiest for you to set up?
How to monetize your show through other "non-show related, non-advertising related" streams of revenue
Should you do your show on your own or with a friend or partner? Advantages and disadvantages of both
What type of equipment do you really need? Let me assure you, the actual cost is MUCH less than every "podcasting expert" out there is telling you. I'm far from frugal but I don't believe in spending money unless it delivers value to you. For example, I didn't even invest in a "good" microphone until I'd done 600 episodes – and not ONE listener ever mentioned anything about the sound!
And speaking of equipment – you ought to at least be familiar with which microphone you might want to use… and why you might want to use one over the other?
How to handle making mistakes – no matter how embarrassing they are! For instance, one time I left the recording on when I went to the bathroom – and then published the episode! I'll explain how I handled it and how you can minimize the damage
Why you should never worry about "convincing" listeners to like your show! After all, the "convincing business" is a horrible business to be in, and it's one with very low returns…
How not being part of "the results committee" fills your podcast (and your life) with much more joy and far less stress than you ever imagined…
Recording software: What to use, and maybe even more important… what not to use!
How to make sure your room or studio helps your audio quality instead of hindering it
Do you need a podcast release form?
How much advance time should you give a guest when scheduling your interviews?
The two MOST important things you must do, if you are hosting an interview show!
How to make sure your guest is prepared to do your show (VERY important)
The right way, and the wrong way to name your show – you'll want to be careful with this one, as it's tough to change this once you're up and running…
The best way to distribute your podcast to get maximum listeners (and the one place most people never think of, that will ultimately double your listeners)…
What to put on your intros and outros – and what NOT to!
Where to get your logo designed without breaking the bank…
How to write a show description
What's the best kind of podcast schedule to have? Meaning, how often should you drop new shows?
When is the best time to drop your shows?
How to leverage your podcast and get maximum Search Engine Optimization from it. This will draw organic listeners to your show better than anything else. Oh, and you can actually do this for Free!
Why are you even doing a podcast? (Note that there is only ONE reason for this)
How to guarantee people will listen to your show…
How long should your episodes be?
Podcast format – what's the best one to use: Solo, co-host, round table, storytelling, documentary, news, commentary on news, drama… the list is almost endless
The right social media to focus on to promote your show – and the absolute worst one to focus on
Easiest way to record your guests
What music can you use on your show, a what music will you get a cease and desist order for using?
Should you have a website, and if so… which one should you use?
Best places to advertise your podcast?
What's the best way to format and present your content?
What will your positioning be as the host? Objective news commentator, opinionated influencer, expert or guru… there are many choices but it's smart to figure out ahead of time… which one of these works best for you, your show, and your end goals of what you're looking to get out of the show.
The right way, and the wrong way of defining success for your show?
What's the best way to handle negative feedback so it doesn't mess with your mojo…?
What's the best way to handle confrontational listeners?
The difference between credibility and believability and why you must have both
How to hire assistants to help you with the myriad of things you need to do… without breaking the bank…
8 things you need to let potential podcast guests know, when you're trying to get them on your show… that makes them feel at ease and encourages them to accept your invitation…
How to get "big name guests" to come on your show, even when you don't believe your show is "big enough" to appeal to them
How to approach creating content and producing your show, to make sure you have a healthy perspective on what you're doing. This way, your always optimistic and enthusiastic, and never beating yourself up over mistakes you made or things you wish you did…
A simple way of promoting your show, that anyone can do – even if you know absolutely nothing about marketing…
Guaranteed fastest way to get other people to share your show on their own social media channels…
If you're hosting an informational podcast, I'll show you how to "reverse engineer" show topics, so you're only discussing those things which are most important to your listeners, right now!
The importance of having repetitive stories…
Why you must have a closing "tag line"… and how to choose it
A HUGE Marketing Mistake I hear loads of podcasters making, that completely turns off your guests and potential new listeners…
I would be happy to help you with any of these topics, or on any other questions you have… on things you're uncertain about or things you're currently struggling with.
Also, if you have an existing podcast and you want me to give you some input and constructive criticism and advice on how to improve it, I can do that, as well.
Craig, this sounds great! What's next?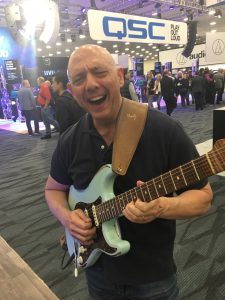 Podcast consulting is $300 per hour and you can book some time with me below. I want to let you know upfront, that at some point, just because I can't keep up with the demand and still handle all the other projects I'm involved with… I will probably be creating a "How to" Podcast Program. Once I do this, I will absolutely no longer be available for in-person consulting.
During our time together, you can either pick and choose a handful of the questions above… or you can ask me some of your own questions on things you're concerned about or things you need help with.
No question is too silly – so ask away. Believe me, everyone has things they worry about! You're much better off asking me something and eliminating any anxieties you might have… than not asking me something because you think it might be "silly," or you're concerned about my reaction. Please don't be – I'm here to help you, not judge you. I want to make your life easier… and make your podcast more fun and less frustrating. After all, why shouldn't you have fun doing this?
100% MONEY-BACK GUARANTEE:
Most people find they wind up saving time and money… as well as avoiding loads of frustration you will definitely otherwise experience, without having access to the information we'll be covering during our conversation. Not to mention, a small handful of practical, money-making ideas you'd never know about – which I love sharing. That being said, just to make this a totally risk-free deal for you… if you're unhappy for any reason at all, let me know any time within the first 30 minutes of our conversation, and we'll stop and I'll happily give you a prompt and courteous 100% full refund.
To schedule our time together, complete this form below. If you need more time once we are into it, you can always book more time at that point. After you submit this form, I will reach out to you within 48 hours with some time slots for us to connect. We'll meet over Zoom and I will send you the audio recording, so you can have it to review at your convenience.
If you have any questions, reach out to me here.
Thanks – I'm looking forward to helping you out!