(Don't worry, you can still watch it ALL weekend!)
Here's how you can win a brand new Epiphone acoustic guitar:
Here's the deal: This coming Friday, December 11th, Nick Perri & The Underground Thieves will be streaming a live, 50-minute concert. You can watch it at 3pm EST or 9pm EST… but if you can't make it, don't worry! You can also watch it any time you want on Saturday, Sunday or Monday, December 12 – 14.
When you purchase a ticket, you get to watch a great concert. And… one lucky ticket-holder will win a brand spanking new Epiphone Hummingbird acoustic guitar, which looks very much like the guitar Nick is playing in the video above. Tickets are only $15, no matter how many of you are watching the show. That's 30 cents a minute lol – would you pay 30 cents a minute to groove on some great music? I think so!
Click Here to Order Your Streaming Concert Ticket Now
If you're not already familiar with them (their new LP, Sun Via debuted at # 6 on iTunes – which is unheard of for an independent release on no label), Nick Perri & The Underground Thieves are a groovy, old-school Classic Rock band that plays killer funky blues rock. And let me tell you, Nick can wail. He's a very creative, soulful person, and player. If I didn't like this music and think the world of Nick, I assure you I wouldn't be co-sponsoring this performance.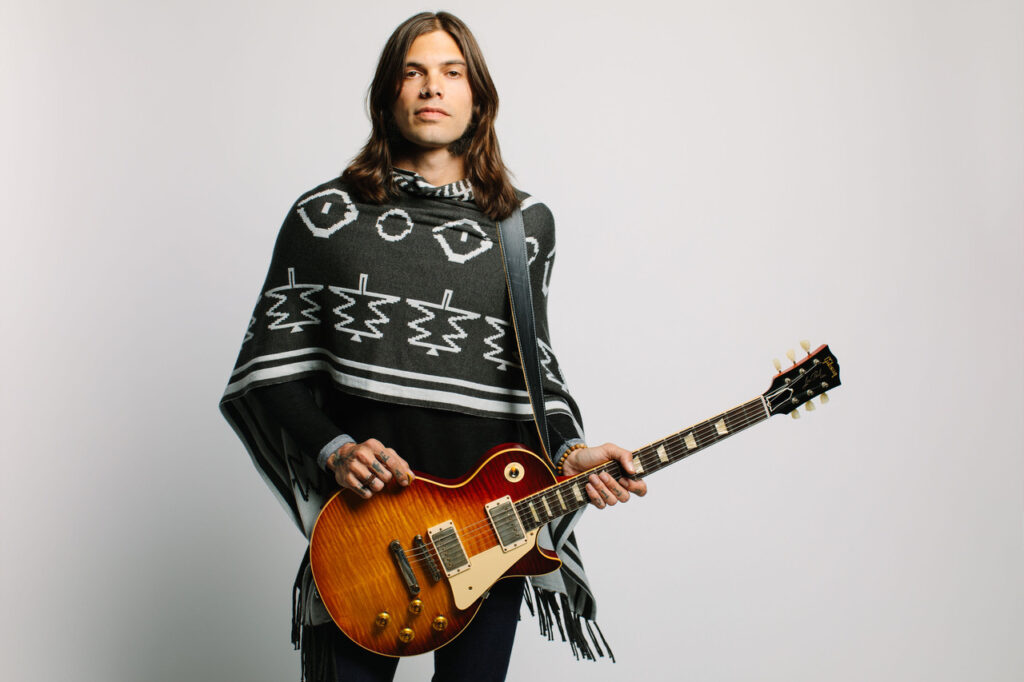 I first met Nick a couple of years ago when he was a guest here on Everyone Loves Guitar. A tremendous guitar player and a platinum-selling songwriter, Nick was signed by a major label at age 16, and next thing you know he's opening for Van Halen, Motley Crue, and Velvet Revolver.
As a side-man, Nick's also played with Shinedown, Perry Farrell, his sister Christina Perri, Matt Sorum, Jimmy Gnecco (Ours), Silvertide, SINAI & Mount Holly.
His new record is called Sun Via, and is available on all major streaming services. If you want to know more about Nick, check out his interview below. Besides being an artist, Nick is a mature, talented entrepreneur who ran a successful retail store and builds high-end guitars, amongst other pursuits. If you're into self-development and personal growth, you'll love this interview. Besides music, we had a very candid discussion about guitars, business, and navigating the ups and downs of life…
So learn more about Nick, and watch him crush it, next Friday
Here's Nick's interview on Everyone Loves Guitar: